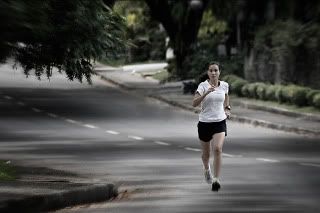 The dynamic Jaymie
Jaymie Pizarro
, 33, wears many hats daily. She is a mom to two young kids, a professional blogger, part-time instructor and graphic designer and editor of her own published running magazine. Jaymie was born in The Philippines and currently resides in Manila, Philippines with her family.
I first met Jaymie during the Nike Hood to Coast Relay in Oregon last year. She struck me as a bubbly, friendly chick with a huge passion for running. During one of our training runs, I started chit-chatting with her and found her incredibly inspiring. She speaks about running with genuine passion and is ever eager to share runnings tips. We shared a common concern - ITB issues and went into some detailed discussions around that! As an avid runner myself, I am always excited and happy to meet with like-minded running enthusiasts. Meeting Jaymie was indeed delightful and sometimes whenever I need a little motivation boost, I hop onto her site.
The other thing about Jaymie that struck me deeply, was the fact that she is a mom to two young kids. I have met many who share that they simply cannot find time to excercise, run or join a fitness class because they have family and work commitments. Jaymie proves that it can be done. It is quite possible if you set your mind and heart to it. Hence, this entry is specially dedicated to all the wonderful mommies out there! You can enjoy personal time outside family and work commitments if only you gave yourself some deserving personal time out of your hectic schedule.
I can't quite explain fully how much sports can benefit you but like I have mentioned before, from a personal viewpoint, it has done heaps for me. Whether you choose to take up running or aerobics or rock climbing etc, taking some time out of your schedule to engage in some form of excercise will provide you with renewed energy and benefits. I hope that Jaymie's sharing will provide that little nudge into doing something for yourself :)
(
Collapse
)