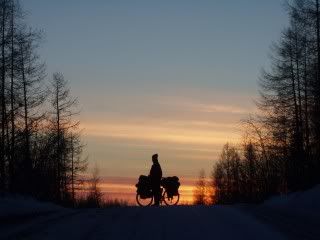 Cycling in Siberia
Rob Lilwall
, 33, is an author, adventurer and speaker. He was born in London, United Kingdom and is currently based in London. He recently launched his first book,
Cycling home from Siberia
and was featured on National Geographic for his epic cycling adventures.
Coincidentally, I have just finished reading Rob's book and was left inspired by his sheer determination, tenacity and courageous efforts to embark and complete his 3.5 year, 30,000 mile journey back to England. Perhaps, you might think Rob is not like any of us. Okay. He did a pretty extreme cycling adventure but prior to it, he led an ordinary life, doing very ordinary things. The biggest lesson that I learnt from his experience, is that if you really put your mind to achieve something, you can do it. Many don't like sports because it's physical torture. You sweat, you hurt, you ache and you go through a lot of mental endurance. But at the end of it all, you feel refreshed, energized and good all over.
(
Collapse
)