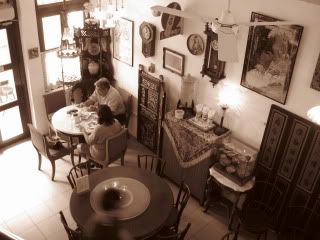 I love Peranakan styled decors
It has really been all about food, food, food hasn't it?
Actually, I don't know why. Perhaps it's a phase :P But anyway, I've still been running and yoga-ing. There's so much to do in the next few months. Travel, renovations, my project 'X' and more. How do you fit so many things that you want to do, in so little time? I guess it is just a matter of prioritizing huh? And then there is still the language bit that I have yet to get started on. Arghhh!
Anyway, that being said - as I was backing up my photos, I found some old food pictures that I forgot to mention some time back. The pictures looked too good not to share, so here goes.
Thai/Indonesian food that has a Peranakan like decor. Strange but nice. Plus, it's always nice to have a change in food cuisine.
Bumbu
44 Kandahar Street (off Beach Road)
(
Collapse
)