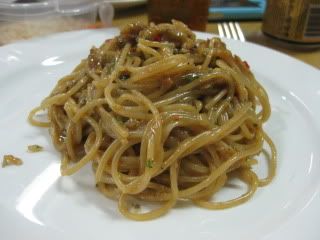 My favorite for the night - Anchovy Pasta
The MAMETA meet-up was way overdue! The next will hopefully be sooner but heh, it was nice to see everyone. No human pictures this time around except for little E, but I'll post them on FB instead. Meanwhile, I'll just grab the human shots from M's blog when it's up.
I had no idea how Big D's Grill came up into the conversation but the next thing that we knew, the venue, date and time was set up! I've not heard of Big D's Grill except that it is like a western coffee shop stall like Botak Jones. M did his due research and emailed to us a blogsite that had mouth-watering pictures of the food.
The brief conclusion is that Big D's Grill serves tasty Western and fusion Eastern food but don't expect coffeeshop prices as the anchovy pasta for example is S$17. 7 dishes (shown below) cost S$100 in total which averaged S$16.50 per person. Waiting time is about 30 minutes.
I would re-visit Big D's again but not regularly because prices are just slightly cheaper to say Tampopo for example which is a restaurant. We typically spend about S$25 at Tampopo. Given the environment, I would rate Big D's Grill slightly expensive because you are literally sitting in a coffeeshop. It is worth a try out though because there is a nice twist and fusion mix to the dishes offered.
MAMETA! We forgot to order DESSERT!!!!! The famous bonet aka chocolate pudding mousse thingy! *wails!
(
Collapse
)