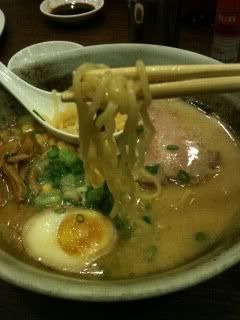 White pork bone soup base
Dinner at Sapporo Ramen Miharu was satisfying. I have posted about this before but heck, here's the information once again. After the meal though, I did come to a conclusion about ramen.
1) I don't think I'll be able to find a ramen place here in Singapore that is comparable to the ones in Japan. I still crave for the ramen that we had in a random shop in a small street near our hotel. It was almost a hole in the wall kind of shop but the ramen served there was so damn good.
2) Ramen is a personal preference. The stock alone has 3 main types - shio, miso and shoyu. Some prefer the noodles springy and thin, others prefer it slightly hard - almost al dente like and thicker. Soup wise, there is pork or chicken based. I personally prefer the noodles to be the Hokkaido type which is white and hard, slightly thicker, almost resembling pasta and has a chewy texture. I always opt for white pork bone soup base hence Marutama ramen is not my favorite because it is a clear chicken soup base and the noodles remind me of 'wanton noodles' type. This are also the reasons why I am inclining to personally vote Tampopo my favorite ramen. Plus, it has a great hard boiled egg with a almost soft yolk.
3) Ramen should be simple without fancy ingredients so that you can truly taste the soup and the noodle quality. When I am looking for a quick fix, seriously, Ajisen butter corn ramen will do fine. If I am really craving for good ramen, I head over to Tampopo or Miharu.
4) Some ramen noodles are oilier. Likewise for the soup base. This is the reason why I don't fancy the ramen at Santouka @ Central. Miharu soup base is quite oily too which is a downside hence Tampopo rates higher for me. But then like I said, it is really a personal preference.
5) Ramen soup base shouldn't be too salty and you shouldn't feel sick of eating a bowl of it. I never feel sick after eating the ramen at my favorite places. When Ippudo opened in Singapore, I was over the moon. However, I was really disappointed after tryingt it out because it didn't match up to the one that I fell in love with, in New York City. The soup base at Ippudo Singapore is salty and the ramen noodles has a slightly different bite. Hopefully, it will improve over time but I won't queue for it!
So I guess that everyone prefers different ramen places mainly because of what they personally prefer as a ramen noodle type or soup base.
Sapporo Ramen Miharu
1 Nanson Road GF Gallery Hotel
(
Collapse
)