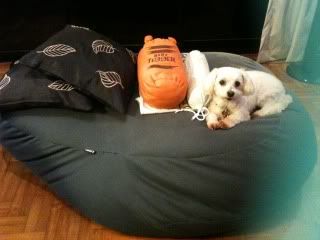 Sitting on her bean bag
My pooch is definitely pampered and enjoying life 24/7. She spends her day lazing around, napping, eating, going for walks and car rides. Of course, there isn't anything else that she can do really but compared to other working dogs that need to tend to sheep, look after people or pull sleds, this one is definitely enjoying a cushy life.
We were at her beck and call for a day. She almost drove us up the wall as she woke us up at 645am to let her out for her breakfast, than she returned to nap and woke us up again because she wanted to go downstairs to play -_- I think I must have owed her something in my previous life.
(
Collapse
)