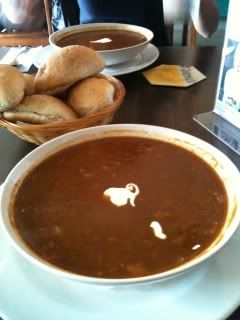 'Upsized' Goulash with extra bun
My Swedish co-worker has a favorite lunch time cafe that he frequents regularly. I'd say, at least once or twice weekly. He orders the same item every single time - large bowl of Goulash with an extra bun. The first time I visited Foo House, I ordered the standard goulash and it was too little hence this time around, I decided to go for a large serving.
Foo House is a small cafe/pub along Changi. The chef is Robert Foo, ex executive sous chef at the Grand Hyatt in 2005. He was the one who helped set up the Mezza9 and was in charge of the cuisines served at Pete's Place, Oasis and The Cafe. His cafe decor is not grand like the restaurants that he used to work for. In fact, it is rather simple and homely with a relaxed feel to it. It feels like one of those little places around the neighbourhood where you can saunter in in casual bermudas/shorts and flip flops and no one would bother.
The people are friendly although service can be slightly slow when busy. I have not tried the rest of the dishes but the goulash was a decent satisfying meal. It is thick with chunks of beef - I did wish that the chunks were bigger with more bite but the meat was tender so the size didn't bother. Some might find the goulash slightly salty, for me, it was fine because it went great with the soft buns. That entire bowl with two buns, was sufficient and my tummy was happy.
Prices are okay. The larger goulash with the extra bun cost S$9.50 (excluding taxes). I had say this is a nice hangout place for a casual meal with friends. I heard that at night, the pub atmosphere is pretty cool.
Speaking of food, I just found out how soft shell crab is made and I am sort of horrified. I love soft shell crab handroll or sushi but now, I am not sure if I want to eat it because it is kinda cruel :\
(
Collapse
)
Foo House
6 Jln Pari Burong (near Bedok Fire Station)
+65 6445 3110
Closed on Mondays