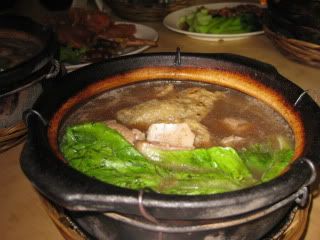 I finished up every drop of the soup!
I have never really been a huge fan of
bak ku teh
but lately, I have taken an interest in it.
There is a famous one at Serangoon - clear broth with loads of white pepper. It is good. One of my Thai co-workers used to eat there weekly with his Japanese wife when they were staying in Singapore. I've always heard that the ones from Malaysia are the best. My Malaysian friends will proudly tell me that the ones here don't match up and it is just
different
Every time B.T has friends visiting from overseas, we will crack our heads to think of local food places to bring them too. This time around, his friend had a local friend who joined in for the meet-ups and did the dinner recommendations. It was supposed to be claypot rice at Chinatown and it morphed into bak ku teh at Beach Road much to our delight.
When we reached Leong Kee at 8, it was already packed with customers. We ordered individual bowls of bak ku teh (no one was willing to share!) and other dishes like the pig trotters', stir-fried veggies, salted vegetables and fried chicken wings. Including drinks, it averaged just S$10 per person which was decent in my opinion.
The bak ku teh servings are generous. An entire claypot of soup that is filled to the brim, about 5 chunks of tender pork ribs that taste excellent with dark soy sauce, strips of 'tau kee' or dried beancurd strips and green leafy vegetables. I didn't even try the pigs' trotters (not a fan of chicken feet, trotters etc) and the wings because I was too focused on my bak ku teh and was determined to finish every bit of it up. And I did! The soup was amazing. It was fragrant with chinese herbs with a tinge of sweetness. I liked the fact that it wasn't too oily as well compared to other local bak ku tehs that I have tried. As the soup was served piping hot, it stayed nice and warm even down to the last drop. Needless to say, we were all sweating like pigs at the end of the meal.
I am actually craving for it again and looking forward to the next bak ku teh session!
Leong Kee Bak Ku Teh
321 Beach Road
11am-9pm
Closed on Wednesday