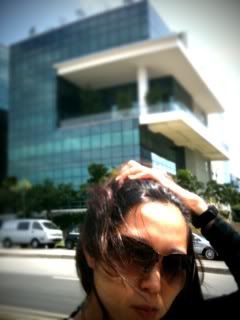 I love windy days though it messes my hair
Exactly a year ago, I remembered the mornings being nice and windy. In fact, it was sometimes even chilly - a rarity here in Singapore.
Over the last few days, I was really pleased when I noticed the weather getting noticeably cooler and I didn't reach the office dreanched in sweat as usual. This morning, I enjoyed the walk to the office. Nevermind the fact that my hair was blown all over the place :) Even when I left the office at noon, it was still windy all around.
I am not too sure if it's because of the
solar eclipse
that is happening now as I type! It would be the perfect time to head out for a run! Speaking of which, I am pleased with my two runs this week (hopefully clock in a third). The ab ripper workout was brutal especially since I have not done it in awhile. My abs are sore and achy right now.