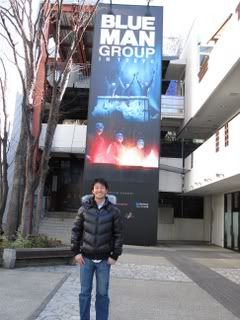 Blue Man Group in Tokyo!
Paint splatters!
We were both disappointed that we were unable to buy tickets for Studio Ghibli nor visit the Ramen Musuem (which we mistakenly thought it was in Hakone - it's in Yokohoma). Until we chanced upon the huge poster at Roppongi Hills for the
Blue Man Group
. Frankly, I haven't heard of the Blue Man Group but B.T had and he got really excited. He said,
Wanna watch?
I replied,
Uh okay but what is it?
It's a live performance of a three man group, with blue painted faces, using all kinds of props to create a live performance. Something like
Stomp
but very unique in terms of execution.
For those that are intending to catch this act, don't read on! If not,
(
Collapse
)