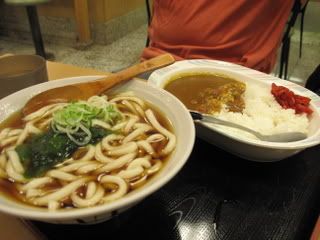 Vending machine food
We are still on the road and will only be back next week. This trip has been helluva tiring for us both! Going free and easy is so much fun because we can decide what we want to do exactly, but it does get tiring planning everything from scratch and all.
We have covered Tokyo, Kyoto and Hakone and I have never taken so many trains in my life! We spent a great amount of time walking from places to places as well. In Kyoto, we literally walked kilometres and my achilles tendon is kinda swollen now :\
But tiredness aside, it has been so much fun. Food here is
FABULOUS!
We are so in love with Japanese food and stuffing our faces with ramen, curry rice, sashimi etc daily. It has been cold but unfortunately not cold enough for snow. Apparently, since 2007, Tokyo has not really experienced snow. So we didn't have a white Christmas, much to my dismay. I was missing my family this Christmas as this is the first Christmas with everyone in different parts of the world. My parents enjoyed a white Christmas, Lynn was happy in Sunny Singapore and I was freezing my ass off here.
Loads of pictures to follow. Internet is free in every hotel that we have stayed here but we have been so knackered that we crawl into bed rather quickly. For now, my first load of photos shall be on the FOOD that we have been gorging on over the last few days :)
(
Collapse
)