Waiting for V to run in. All shivering.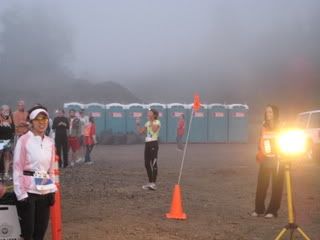 I was getting colder by the minute. Check out the mist behind.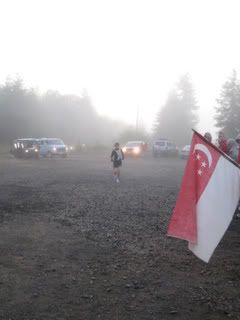 V runs in towards our flag
The worst leg was over. I was feeling relaxed for my second leg which was a 6am run.
Portland is currently still in it's summer so the sun is expected to rise early about 5ish and get bright. So I figured it was going to be a lovely run. Under my warm up jacket and pants, I was dressed in my running singlet and shorts. Then as my team headed out one by one, the weather still remained chilly. In fact, it was colder than the previous night.
All my stuff for this race were pre-packed in ziplock and labelled. I packed extra just in case. You can never go wrong being too well prepared. It was a good thing I packed a back-up set of long sleeves and capri for this leg. I decided to change out of my shorts into capri and wear my lighter running jacket over. Changed my visor to a beanie and decided to use my yellow sunspecs instead of the day versions.
As I was waiting for Vicks at the exchange point, the skies which were initially getting lighter started to get foggy. Then in split second, a mist hung over the start point of my leg. I was going OMG. Then Vicks came in and she was freezing and I took off.
I ran through a mist for this leg. This time around, I ran faster than I wanted to (my last leg is the longest so I had to pace myself), not because of the dark, but because it was cold. My toes were freezing, my fingers were cold even beneath the gloves. I kept pulling my beanie to cover my ears. It was cold and whenever I breathed, misty air came out of my mouth. At least for this leg, the vans could enter so there was a steady stream of vans driving through.
There were upslopes and downslopes for this leg and my legs were starting to feel it. I guess fatigue from the first leg was also starting to hit me. My music helped, I just kept running to keep warm so that the cold wouldn't hit me. Whenever I wanted to stop, I told myself that my muscles would cramp up if I did so I just continued and then before I knew it, I saw the exchange point ahead and I raced in with a smile.
My timing was again 41 minutes