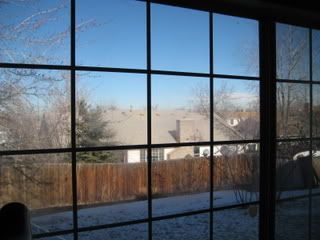 The backyard of B.T's house
Isn't it pretty?
Fallen snow on the ground. I saw it last night, and this morning. But I have yet to witness falling snow - the type that feels like fluffy cotton candy.
The house is nice and warm right now. So I don't feel the cold. Last night, when I trooped up to my room, I started to shiver a little. Then I dived under the comforter (made of down), shivered for five minutes before I felt warm.
I am feeling very much at home right now :) His mom is so sweet. The bathroom has all kinds of toiletries for me to use - just like in a hotel! We just did a huge load of laundry, gonna have some home-cooked 'mee sua' for lunch before running around for some errands and stuff.
Hmmm. Maybe we can do
some
skiing afterall.