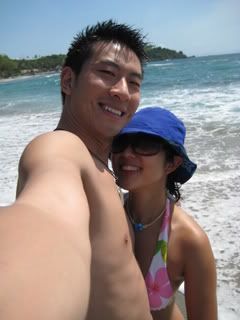 Lovely sunny holiday
Updated. With photo link at bottom :)
Honestly, one of the best vacations that I have had - everything went perfectly and as expected.
This trip came about because I was thinking of a birthday present for B.T. The cupcake surprise was thought about after all this was arranged :P So since both of us were pretty buried in work all the time, I figured we both could do with a getaway, especially him.
Took me awhile before I could find a suitable location - that wasn't plagued by the monsoon season etc. Couple of options - Bali (rainy and common), Borracay (lovely but way too ex), Phuket (I've been there few times) etc. I surfed around, then an ex co-worker mentioned Lombok to me. Showed me a couple of photos and I was sold. He recommended a hotel but I wanted to find somewhere special. And after doing some research, I did :)
Qunci Villas
.
Off Lombok on a quiet island, with just twenty rooms, a boutique hotel with good reviews from community boards. I saw the site, was completely sold. Started on a long email exchange with a staff who could write decent English. I asked loads of questions. Then I decided okay. Opted for the ocean view room (the best choice really), arranged for a special candlelight dinner on his birthday and a cake, plus massage for two.
He knew he was going to Lombok because I redeemed tickets and he received the confirmation. But he didn't know the details :) Only till a week or so before. And when he found out, he was excited. I have never planned anything like this before, so I guess I was nervous and hoped that everything would turned out fine.
We got picked up at the airport, drove 30minutes back to the hotel and wow. It was stunning. Exactly like in the photos. Dropped our stuff off, and proceeded for dinner. My gawd. The set up was beautiful. A special table for two by the poolside (was supposed to be by the beach but the waves were too high and dangerous).
Food at Qunci is excellent by the way. We ate there every single day and it's really good. Impressive. So back to dinner, we had white wine, bread sticks and fresh bread with pesto, olive and salsa dip. I didn't get some of the items that I requested swapped but it was okay cos it was nonetheless good. The orange prawn salad was refreshing, beef broth and soya beans was delicious and the red snapper in creamed sauce was just simply lovely. Originally, I requested for a cake for dessert but it got lost midway the email communication. But when they found out it was his birthday, they surprised him with a huge cake after dinner.
Service here is top notch. They really go all way out. Massage services wasn't available but they staff returned specially for us! And we had our massage out in the open by the pool under the stars :) The funny thing was that everyone misunderstood and thought we were on our honeymoon! Well simply because I took the honeymoon package *grin. So it was really funny. Our bed had rose petals and all and everyone was congratulating us. We were laughing away as we told them,
No no! We aren't married!
.
The first night was so lovely, we couldn't wait for the next day.
We both got up late and missed breakfast :P Spent the entire day lazing at the pool and reading. The pool is amazingly nice. We had literally, the best room. Outside our room, was the pool. Then few more steps, it was the beach and the ocean. Throughout the day, we had the sounds of the ocean waves for music.
It was sunny throughout the entire trip and not a trickle of rain. We lounged, ate, walked along the beach and got amused by the locals trying to peddle their wares to us. Because there are only twenty rooms, the place is mostly quiet. Mainly couples, because seriously, there isn't anything for kids.
The sunset in the evening was breathtaking. It's like watching a beautiful picture change it hues from bright to warm and finally to a dark and black canvas that is nonetheless beautiful. We had another session of massage before dinner and basically, spent loads of time talking and just enjoying each other's company.
The cheeky boy decided to pull me out of bed at midnight, when I was dressed in my pjs. He said,
Let's go see the full moon and the stars.
I said,
I am sleeeeping and I don't want to get dressed.
But he said,
No one can see you it's so dark anyway.
-_- So I just pulled on my jacket (for modesty sake), and ran out with him to the poolside.
The moon was so bright, the entire place was lited up. And then we noticed the stars in the almost clear sky. We could hear the crickets trilling and the waves from the ocean crashing fiercely against the shore. And actually, it was really romantic :) Then we trooped back to bed, with a huge smile on our faces.
The next day, we made it in time for breakfast which was way yummy. We kinda regretted skipping the previous day's brecckie :P Lounged around for a bit then went to the beach to try surfing. He's surfed in Bali before. I, not at all. It was rather hilarious. The waves aren't that high, and totally suitable for beginners. I got onto the board, the guy would tow me out to sea. Taught me how to keep my balance on the board. Then when he saw a wave, he turned me around and wheeeeee!
It was really fun. I tried to stand a couple of times but could only manage a (sometimes) half stance. The waves totally knock you out and you get really winded after awhile. And if you were wondering, nope I didn't wear my bikini. Hell no. I wore my Nike sports bra top and essentials bottom. It was really really fun. But my side's not completely recovered yet so it started to hurt after awhile and I decided to rest and watch B.T try. Unfortunately, we didn't get much waves so we just stayed at the pool.
That was pretty much our first holiday in a nutshell. I was happy that he totally enjoyed it, and was touched with the whole arrangement - from the cupcakes, to the trip and all the details. And to see him smile during the entire trip, it was totally worth every ounce of effort :)
Loads of pictures. We took 300 over, I upload most of it. Have a couple of videos too but it'll take awhile for those to be uploaded.
I was kinda sad when it was all over. But it was really a good three days. We are both tanned, he's quite burnt and heh, like I said, I have a personal reindeer now which is kinda cool :P I am looking forward to the next short trip next month, and the loooong one.
We are both aching from the surfing. My arms, area at the ribs etc are aching like crazy -_- It's gonna be a funny half marathon this Saturday.
(
Collapse
)