I had a few questions on the 'make-up' and previously on skin care that I use so I figured it's easier to do a short post of it.

I typically don't use a lot of make-up unless it's for a special event or dinner date and my routine is more focused on skin care and protection versus piling on tons of powder. I believe in leaving your skin fresh and natural as far as possible and using some make-up for necessary coverage and to enhance features. :)

I do switch around brands for some products like mascara, facial foams, eye makeup and chapsticks but for the general skincare routine, I stick to what has been working for my skin. For example, I have been using SK2 for ages and I even got my mom and sis hooked onto it. However, it also doesn't work for everyone as each individual has different skin types with different requirements. I believe in trying out with samples to test suitability and no matter how popular a brand/product might be - don't use it if it doesn't suit you! I love BB Cream and it gives me a lovely coverage BUT it makes me break out so I rarely use it.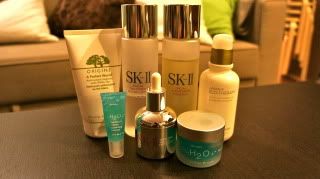 Daily skincare routine



This to me is the most important part of my beauty routine. No matter how tired I am, I'll go through this routine. My mom taught me from young never to stinge on skin care products. She said anything that you put on your face is worth splurging on and you can use cheaper products for the body. I've been using quality skincare products since young. I prefer to use oil-free products so most are water-based.

Clockwise from extreme left -

Origins facial cleanser - Nice smelling and cleanses well.

SKII clear lotion - toner after washing. Toner is very important!

SKII Miracle water - I don't know how to explain this, but it just works!

The Face Shop moisturizer - I don't normally use this but the smell was enticing so I tried it and it's been good so far but not as intensive as my H20+ moisturizer.

H20 moisturizer - water based moisturizer. Been using this for years too.

SKII anti spots serum - use this on my age spots, freckles. The problem with being naturally fair! -_-

H20 eye cream - light and non-greasy.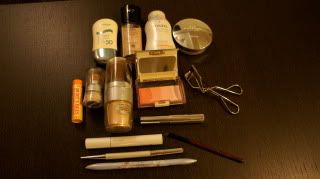 Clockwise from extreme left -

Burt's bees chapstick - not picky over chapstick. I use whatever catches my eye. My lips are naturally reddish in color so I hardly put on lip color and only chapstick. I love those with fruity flavors :P

L'OReal minerals coverage - Great for age spots above my eye brow -_-

Physician's Formula mineral powder - I lightly brush it on after I apply powder.

Biotherm facial sunblock 50SPF - my absolute favorite sunblock. A MUST even when I'm indoors!

Boots No.7 luminating liquid - I apply a little after putting on sunblock for a 'dewy' look.

Ponds powder - this is like talculm powder for the face. It costs a few bucks from Boots :p I use this on weekends.

Water powder - Can't recall this Korean brand, it's from a beauty shop at Plaza Singapura. I pat this on after the No.7 luminating liquid. It's not foundation or face powder and works just to matify my face.

Shiseido eye lash curler - best ever

PN by Shiseido blusher - I've been using this for years

Shu Umera mini blush brush - I try to get everything in travel size so it's easy for travel.

Shu Umera lash repair - helps protect my lashes

PN by Shiseido eye brow pencil - been using this for years too!

MAC eyebrow brush - Also from a travel kit range

The Face Shop white eyeliner - I use this to highlight certain parts around my eyes.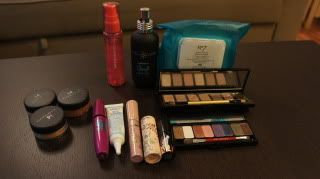 These are miscellaneous products that I might not necessarily use on a daily basis. It depends on whether I have time or sometimes I just want to give my skin/hair a break.

Clockwise from extreme left -

Bare Escentuals minerals - I love the coverage it provides but it does make me break out slightly so I use this mainly for special occasions!

Essentials hair serum - to tame my super fine flyaway hair.

Bumble & Bumble sea salt spray - best invention ever to give volume and texture and that 'beach look'.

Boots No.7 4-in-1 facial wipes - great for wiping off make-up or fuss free face cleansing when I am in a rush.

Bobbi Brown neutral eye shadow - Love neutral eye colors. I use the coffee color as an eyeliner.

Shu Umera shimmer eye shadow - It has glitter in it so this is used for night functions.

MAC 'Heartless' lipstick - RED lipstick which I discovered that suits me really well!

Paul & Joe lipstick - soft pink lipstick

Paul & Joe liquid eye shadow - for more intense shimmer and to help powder eye shadow stay on longer

Khiel's spot corrector - BEST cure for pimples!

Maybelline mascara - cheap and it works

Sounds like I use a lot but actually, it's hardly any. The sad thing is that people have told me that I look the same before and after makeup -_- I like the natural look anyway so I guess it works. I usually take 30-40 minutes to get ready in the morning including shower, skin care routine, change and make-up. My make-up routine takes usually around 10 minutes as I tend to spend at least 15 minutes in the shower trying to wake up under the hot shower!

P.S Does anyone use a hair curling iron? I have the multi-purpose one from Philips and it doesn't seem to curl my hair at all! I'm wondering if it's due to my fine hair texture which is usually very very hard to style (testified by hair stylists - my hairdo for my sis' wedding had over THIRTY pins in it -_- ) or whether the hair iron isn't good. Any recommendations?

♥ Help Japan recover