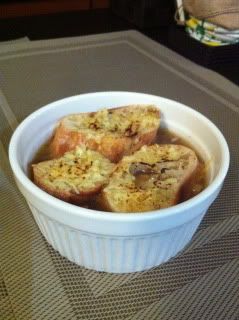 I've been wanting to make French onion soup for the longest time simply because it's totally yummy and B.T loves it (loads). I've always had the perception that it is a very difficult soup to make. I started scouring the web for recipes, found one that sounded simple enough to follow. And then, as I mentioned before, my Dad started rambling on about actually making the beef broth from SCRATCH and I swear that I almost fainted there on the spot.

So let's put things into perspective. There is no denying the fact that broth made from boiling bones for a long time, extracting all that yummy goodness etc, would give the soup more punch. But my mantra for cooking has always been to find a simple enough recipe that wouldn't be complicated and can be easily replicated over and over again. As since the recipe that I chose called for simple ready made broth that yes, comes in a carton, I decided, heck.

Coincidentally, B.T was doing the beef sous vide and we had the leftover beef gravy which was flavorful and beefy. We kept it and threw it into the soup which I guess did contribute to the taste. Hence, we decided that if we want to make onion soup in future, it'll always have to be after we sous vide beef. We can then keep the beef gravy to dump into the soup :P

The recipe was great but I landed up heavily modifying it. I would say, I changed 50% of it. Firstly, we don't have a ceramic pot that is oven safe so we had to find an alternative way to brown the onions. Also, we don't have a broiler so we substitute by using a blow-torch to melt the cheese (you can put the remikins in the oven as well to melt it but then it's hard to remove from the oven as it'll be piping hot). Finally, you'll notice that the bread slices in my soup look thick. That was according to the recipe but I realized that she used a broiler so that was possible. I'll now use thin slices of baguette instead so that it soaks through better in the soup. Nonetheless, I would say the French onion soup was a success and it's simple to make. :)

♥ Help Japan recover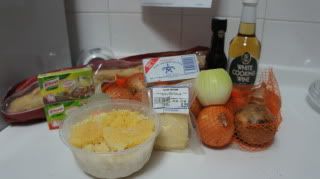 Ingredients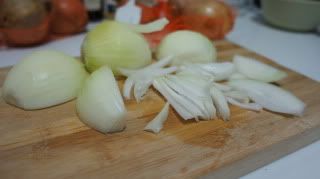 Chop and slice onions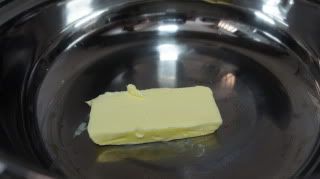 Melt butter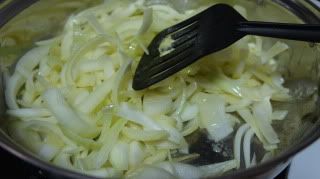 Saute onions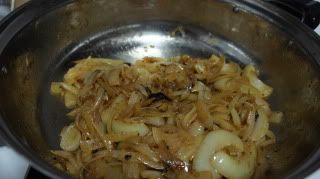 Yup. This is done.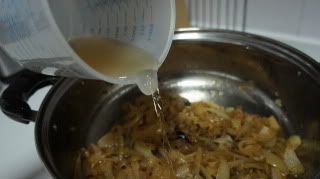 Add white wine.
Allow the wine to reduce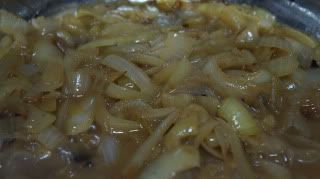 Looking good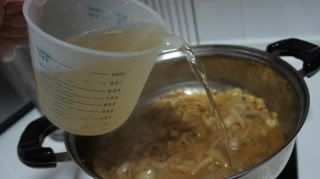 Add chicken and beef broth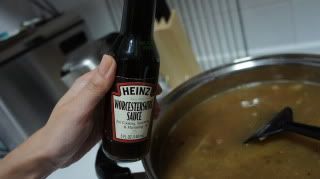 Dashings fo this will make it yummy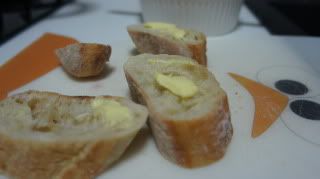 Butter the bread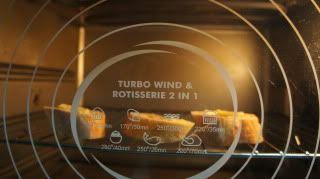 Toast the bread till cripsy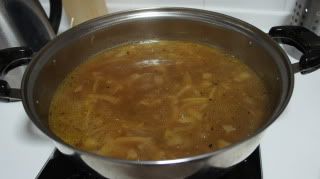 Soup is done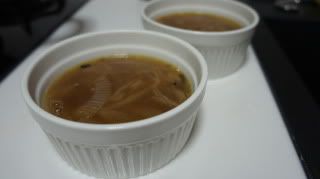 Ladle into remikins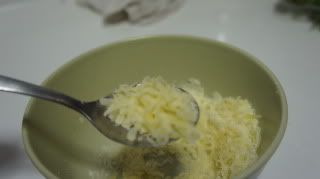 Shred cheese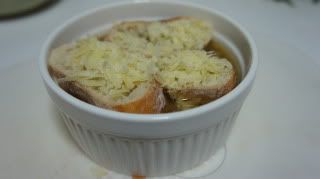 Place crispy bread, sprinkle generously with cheese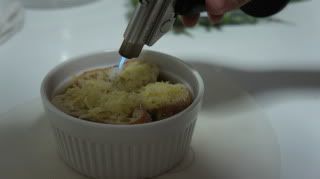 Use a blow torch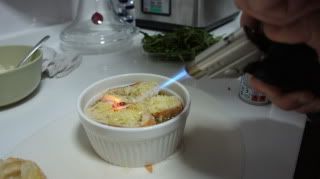 Melting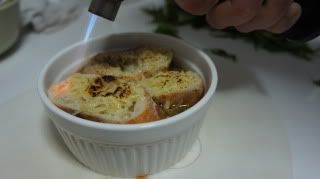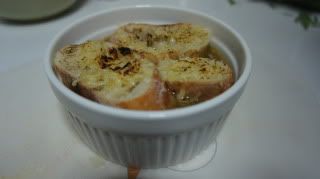 Done!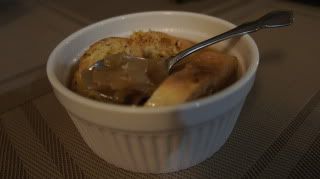 Viola




French onion soup
Ingredients -
1 stick/ 0.5 cup of butter
4 whole large/6 medium yellow onions, sliced thinly
1 cup cooking white wine'
4 cups chicken broth (I used 1 chicken cube and added 4 cups of water)
4 cups beef broth (used a beef cube too and added 4 cups of water)
2 cloves minced garlic
Dashes of Worcestershire sauce
Thin slices of baguette
Shredded Gruyere cheese

1) Melt butter in a pot, add onions and saute till brown, stirring constantly to prevent burning.

2) Allow onions to cook for another 10 minutes or so over low heat till it looks caramelized and transparent.

3) Turn off heat. Add wine.

4) Cook wine for another 5 minutes over medium heat, allowing it to reduce.

5) Add cubes, worcestershire sauce, water, minced garlic and reduce heat to low.

6) Simmer for 30 minutes, stirring frequently to prevent burning.

7) Butter 1 side of bread slice, toast it till crispy.

8) Ladle finished soup into ramekins. Place cripsy bread on top and sprinkle generously with shredded Gruyere cheese.

9) Use a blow torch to melt the cheese.

10) Serve immediately.