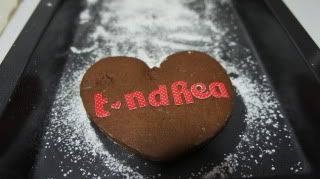 Happy Valentine's Day beautiful people! Regardless of whether you celebrate it or don't (we don't exactly and I just cooked dinner for him on Saturday and baked some cookies yesterday).


I used to love baking a lot. It was an almost weekly affair in junior college as I was churning out jars and jars of cookies of all kinds. My family literally got sick of eating them :P Right now, I sort of prefer to cook non-desserts. Desserts are fun once in awhile but it's not something to eat all of the time.

I started craving for a particular type of chocolate biscuit last week. For those who are familiar with Four Leaves' cookies, I used to buy the rectangular chocolate cookies that came in stacks of 5-6 in a clear plastic wrapping. Does anyone know what I'm referring to? Well, I had a sudden craving for those and chanced upon a recipe that sounded like it would turn out just like those. So I decided to make them.

The idea was to use cardboard letter stencils so place over the baked biscuits and sift icing sugar over so that you'll get icing letters forming a message such as 'HUGS','KISSES', 'I LOVE YOU' etc, all in the fun of Valentine's Day. The cookies turned out I would say 50% succcessful -

1) I was too lazy to make cardboard stencils so I bought puffy minatures stickers from Paper Market planning to use them as stencils. As they were tiny (though extremely adorable), it made the icing stenciling process, VERY DIFFICULT.

2) I forgot that I didn't own any cookie cutter so a last minute trip to the nearby departmental store proved half-successful as I bought a heart-shaped uh metal shape for making sunny side ups (in the shape of hearts). Cookies turned out HUGE.

3) Recipe called for 2 sticks of butter or 1 cup. I roughly filled the measuring cup with '1 cup' but forgot that there were many spaces around the side so I believed the butter used was less than required and the cookies were slightly dry.

4) Baking using a toaster oven can be tricky as the maximum temperature goes up to only 250 degrees celsius.

I was slightly disappointed with the way the cookies turned out but B.T said he was still happy with the thoughtful gesture. We decided to spread nutella onto the mini hearts (made using my silicon cookie mould because I ran out of baking tray space for the gigantic hearts) and we left them in the fridge. Funny thing was, we both had some this morning and agreed that keeping the slightly dry biscuits in the fridge, uncovered, made them moist. And they are quite yummy now!

Thought I'll still share the recipe because it's still a fun recipe and if anyone tries it, do let me know how it turns out!

::::: EDITED :::::
After we refridgerated the cookies, they tasted even better the next day and the next!!! It's really yummy right now! I think adding more butter might do the trick or simply just leave them uncovered/boxed, in the fridge.




The polka dotted puffy stickers with mini hearts that I tried to use as stencils
1st step, mix all the dry ingredients excluding sugar, together (baking powder, salt, flour, cocoa powder and cinnamon
Adding the baking powder
Didn't have a spare big bowl so I decided to mix using this method - slowly sifting the cocoa in and mixing along the way.
Sifting helps to remove clumps present in the cocoa
Mix well
Measuring out the butter
Add the softened butter to the sugar (recipes calls for brown sugar but I didn't want to buy 1kg of brown sugar when I had tons of white at home)
Using an electric mixer, cream at low speed otherwise the butter starts to fly all out of the bowl!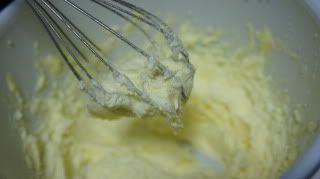 Cream till it's fluffy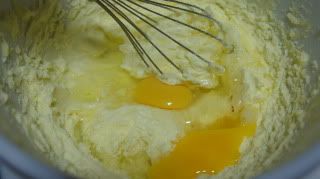 Add the egg - I used 2 small eggs since 1 large egg was required.
Add the vanilla essence. I love love love the smell of it!
Continue whisking
Whisk in the mixture of dry ingredients portion by portion
I decided to use the 'fold in' method so that it's less messy and also, to give my arms a workout!
Keep mixing..
The final dough!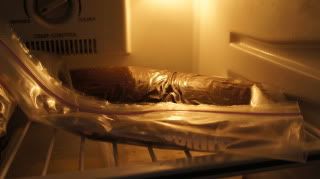 Place in a ziplock, flatten it and keep it in the fridge for 2 hours.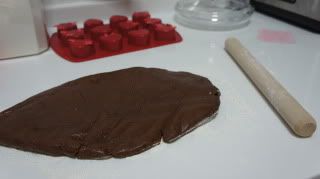 After 2hours, remove from the fridge, let it set for 10 minutes and start to roll. I got a mini rolling pin or rather, it's used for making noodles :P
Roll out to a thickness of 1/4 inch.
Cut out the shapes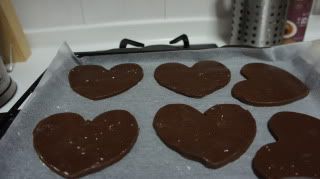 Mega hearts ready for baking.
Fresh out of the oven. Leave to cool completely.
Tried sifting on the icing sugar to form the letters
Eh where are the letters?
Using tweezers to gently lift the letters without destroying the formed words - friggin' tough!
14 Feb - major fail!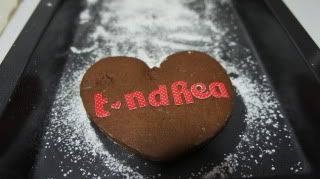 Okay fine. It looks cute this way too.
Gave this one to B.T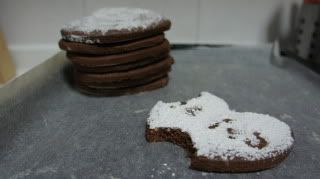 Stacked them up.
Spread nutella on the mini hearts
I actually like it with nutella on the top. Heck. Everything with nutella tastes good.



Washed. I'll find another purpose for them.



VALENTINE'S DAY CHOCOLATE COOKIES

INGREDIENTS
1-1/4 cups all purpose flour
1 tspn baking powder
1/4 tspn salt
1/2 tspn ground cinnamon
1/4 cups unsweetened cocoa powder
1 cup firmly packed brown sugar (I think using standard white is fine)
1 whole large egg
1-1/2 tspn vanilla essence
Icing sugar for dusting
Alphabet stencils
2 sticks/1 cup of softened unsalted butter

1) Combine the flour, baking powder, salt, cinnamon and cocoa powder in a bowl and set aside.

2) Using an electric mixer, cream butter and sugar till fluffy.

3) Add egg and vanilla essence and whisk till combined.

4) Add in the dry ingredients mixture using the fold in method till well combined. Do it in stages.

5) Place dough in a ziploc bag, flatten slightly, seal the bag and refridgerate for 2 hours.

6) Pre-heat the over to 350 degrees.

7) Remove the dough from the bag, and place on a floured surface for 5-10minutes.

8) Roll out to 1/4 inch thickness and cut with cookie cutters.

9) Bake for 12 minutes or until set.

10) Remove from oven and allow to cool completely.

11) Place stencils on cooled cookies spelling out desired message. I did the reverse stenciling method. If you cut out the actual letters for the stencil, you'll need to lay pieces of scrap paper on any areas of the exposed cookie that you do not want covered in icing sugar.

12) Lightly sift the icing sugar over the stenciled cookies.

13) Carefully remove paper and stencils using tweezers. Be careful not to drop the icing sugar as you remove it.

14) OR, skip step 11-13 and spread on Nutella. Our favorite :)