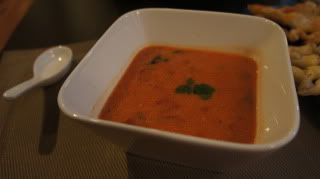 On Friday, I had a sudden inspiration to cook up a couple of new dishes over the weekend. Also, though I'm not a fan of Valentine's Day, I decided to cook dinner for B.T since it's been awhile. Cooked up two dishes - first attempt! last evening and will be doing another one today!

I have a penchant for good soups. The types served at Soup Spoon - thick and creamy, chock-full of ingredients, a lot of texture and good enough as a meal (together with chunky bread or bread sticks). I've successfully done butternut squash soup and mushroom soup and have been wanting to experiment on more. Decided to try out a tomato soup and next up, french onion soup!

The tomato soup turned out to be the easiest to make and the secret behind the amazing taste is the addition of cooking sherry! The moment you add in the sherry, the aroma is friggin' amazing! I love how the chunks of diced tomatoes add great texture and ooomph to the soup and it's a soup that isn't as heavy as a mushroom creamed soup and has a lovely sweetish sour, tangy taste to it. I'm definitely going to cook this again!

As usual, I'll edit the recipe and tweak it - the fun part of cooking!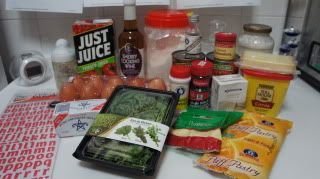 Ingredients used for all 3 new recipes that I'm trying out :P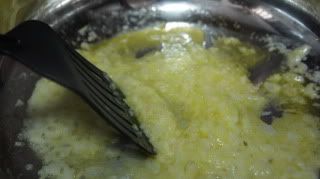 Saute the onions in butter. Smells delicious!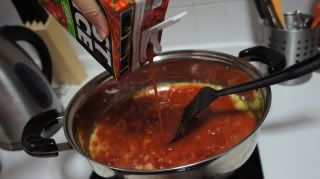 Pouring in the tomato juice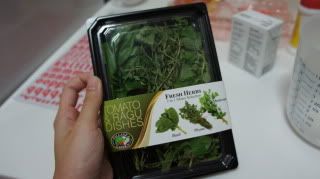 Such a great idea huh? I used the thyme for the cheese straws and the basil and marjoram for the soup. Had no idea what marjoram is but decided to just use it!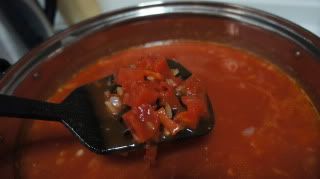 Chunks and chunks of squishy tomatoes!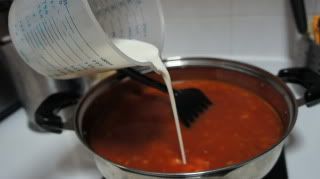 Adding in a cup of sinful liquid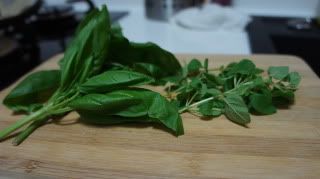 Fresh herbs come with the stems. I remove the stems before mincing them up.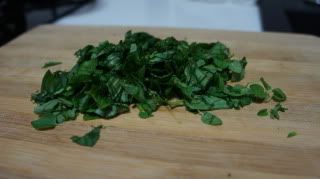 All minced up. Add whatever you fancy but some herbs are strong in flavor so do so in moderation! Trial and error!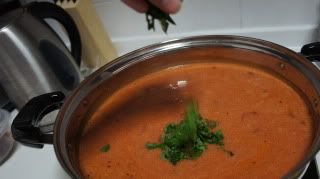 Sprinkle the herbs in and stir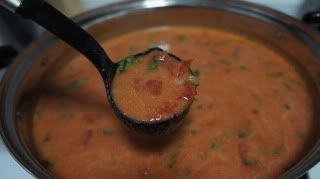 Viola! Ready to serve!



Sherried tomato soup
30 minutes to prepare and cook. Serves 6

Ingredients
6 tbspn of melted butter
1 whole medium onion, diced (I usually prepare in advance a container of diced onions which I'll freeze it for future use. Saves a lot of time when cooking!)
1 bottle (46 oz) tomato juice (It's about 1.3 litres but I just used 1 litre which was enough)
2 cans (14.5 oz cans) diced tomatoes (I used Hunt's. Cheapest!)
3 tbspn (up to 6 tbspn) of sugar (I used 5 which I liked how the sweetness balanced out the sour tanginess of the tomatoes. B.T prefers it less sweet so you could start off with 3 and taste along the way)
1 cube of Knorrs chicken stock
1 pinch of salt
Black pepper to taste
1 cup cooking sherry
200ml heavy cream
Chopped fresh basil
Chopped fresh marjoram (recipe uses chopped fresh parsley but I decided to use marjoram because it came in a pack of 3 together with thyme and basil which I needed for my cooking :P)


1) Saute diced onions in butter until translucent.

2) Add canned tomatoes, tomato juice, chicken cube, sugar, pinch of salt, black pepper and stir.

3) Bring to a near boil. Turn off the heat.

4) Add in sherry and cream and stir.

5) Heat for a few more minutes but do not bring to a boil.

6) Add in marjoram and basil to taste.

7) Adjust seasonings of sugar, salt and pepper according to taste.

8) Serve with crusty bread or cheese straws which I baked and will post the recipe next!