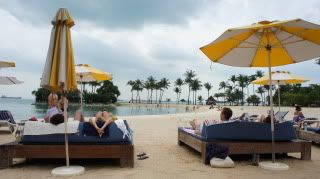 I hope everyone had a swell long weekend. It's been perfect for us both so far. Reunion dinner, lunch at home, caught a movie, ran 4 times this week, did 75 minutes of hot yoga, went to 2 house parties and caught up with current friends (and made new friends), ate loads, bummed around loads and finally, finally, we made our virgin visit to Tanjong Beach Club (TBC). I said finally, because we've been talking about it for a long time, tried to head down last weekend but as everyone knows, it rained continuously for 60 hours so scratched that.

We almost fainted when we saw the snaking queues for the Sentosa tram but thankfully, it turned out to be just a 5 minutes wait to get on. There were so many people, barricades were set up to control the crowds -_- We were half afraid that the beaches would be packed silly but thank goodness, most of the crowd dispersed into Universal Studios and other parts of Sentosa except TBC :P

TBC mainly attracts the expat crowds and if you don't fancy chilling out with young kids around, it'll likely not be a choice option for you. I personally love the ambience and it was relaxing. The weather was perfect - not scorching hot and the clouds came out every now and then so I got slightly tanned but not burnt which was what I was hoping for! I'm no longer a young chicken so lounging out in the sun for hours and getting age spots is no longer my thing!

Food and drinks are great. TBC is owned by the same group that runs White Rabbit, Loof and Overeasy so it's a huge plus that food is yummy and the drinks aren't watered down. The sliders were great and a jug of Pimm's (serves 4) is recommended for those that prefer a light alcoholic option. It was strange that the music was turned on much later in the afternoon but when they did, it was great. I have no idea why some beach places love pumping out loud techno music but at least TBC plays nice chill out music at a volume where you don't have to shout to hear yourself.

The pool side is fairly big so you can get a few decent laps in or just sit and relax without having to jostle for space with the kids. They didn't seem to provide towels so it was a good thing that we brought out own. After hearing horror stories from my friend who lounged on a public beach bench for hours and landed up with some sort of fungal infection on his back and had to go to the doctor for treatment, I decided that I'll always bring my towels so that my skin isn't in direct contact with the chairs.

If you ask me, it was the perfect Saturday afternoon, great weather, food and company. I couldn't have asked for more! And I reckon we will be back!