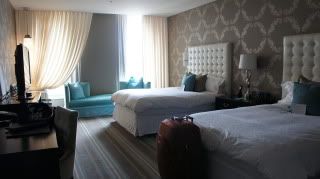 While most people enjoy staying in the typical 5 star hotels and the well-known brands like the Hilton, Regent, Ritz etc, I prefer staying in boutique hotels like The Metropolitan in Bangkok. I am glad that our company's corporate deals are mostly with boutique hotels which are cozier and more unique in style.

We usually rotate around a few favorite boutique hotels in Portland. It's always in downtown as it's more convenient. We have been trying to make reservations at the newly opened luxury hotel - The Nines and managed to do so successfully after 6 months! Now this hotel looks tiny from the outside but it's massive with quite a number of rooms. Yet, it doesn't feel like the usual corporate hotel chains and the decor is nice and cozy and in my favorite Tiffany's color! We were delighted when our reservations were successful and looked forward with much anticipation.

The Nines is popular for it's bar - The Departure, which offers a splendid view of Portland at night. I visited the bar on my previous trip and forgot to take pictures but you can check it out on the site. With our corporate rate, we got a pretty sweet deal and apparently, this same hotel chain in NYC costs a whopping USD$600+ per night so we are very lucky to pay a mere fraction in Portland. Also, it's Portland where everything is a lot cheaper.

The hotel rooms are roomy - double rooms have double queen-sized bed and the color theme is of course gorgeous. Service is pretty good but not in the restaurant - Farmers' Market. The huge downside of The Nines is the food quality. Be it room service, breakfast or dinner, the food isn't good at all so if you stay here, don't bother trying it. Other than that, it's is luxuriously comfortable and totally convenient as it's just across from Pioneer Place (where I do all my shopping at), Nordstrom's, next door to Macy's, near a Rite-Aid and more.

For more pictures, check out the hotel site or The Pioneer Woman's own review of The Nines.

P.S I have been getting a number of 'follow' requests on Twitter. Please don't take it personally if I don't add you onto the list. My twitter account is locked and only for personal friends as I do share information that I don't wish to do so publicly and information that I may not even share on Facebook. Hope you don't mind! Also, to friends, please don't make public comments about where I stay in Singapore or where I currently am, as I am just more paranoid about this as there are too many crazy people around -_- All entries posted here are post entries i.e. never in real-time.