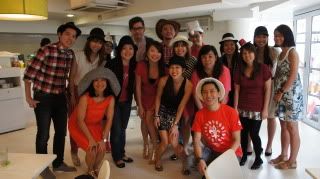 My team at work is a very young team and that makes the working environment a lot of fun for the bulk of the time. The Christmas lunch celebration at The Orange Tree had a theme to it which everyone showing up in great spirits. Red, green, gold or silver and with a hat. It was so much fun and once again, I'm grateful for having a fantastic working environment with people that I can get along well with.

I guess that pretty much sums up the work year for 2010 as the office will be officially closed mid next week with most going on leave already! As for me, I might be writing my end of the year reflection post sooner since I'll be out of town for Christmas and the New Year!

P.S I'm supposed to have migrated on a new platform eons ago but the number of entries that I have on travel trips keep piling up and I've not had a chance to work on it. I'm aiming to get it launched by early next year *fingers crossed :P Meanwhile, entries on my recent work trip to Portland and the upcoming trip to Hong Kong to follow shortly!