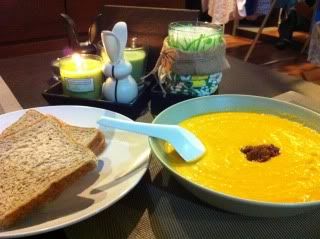 I think I've found the perfect recipe for homemade butternut squash soup! I'm not going to eat this at Soup Spoon now :P All thanks to one of my friends who cooked this at the Thanksgiving dinner and it was so good, I asked for the recipe right away.

My family are coming over this week to The Studio for the first official 'house-warming'. It was a last minute decision and we scrambled to figure out what to prepare.

The menu is quite simple and as for now, we are preparing grilled asparagus wrapped in bacon, grapefruit and avocado salad, buttersquash soup and a pavlova which might fail since we don't have a proper oven BUT, I have a backup :P That is marshmallows dipped in melted milk chocolate rolled in rainbow sprinkles and speared with a chocolate coated, crushed almonds Pocky stick.

We made butternut squash soup for the first time and it was such a success! It's thick and really tasty! So I'm sharing the recipe here. I made some modifications so it's not the original recipe and basically, it's a taste as you go recipe!

Butternut squash soup with sun-dried tomato puree - (makes 6-8 servings if it's served as an appetizer and serves 2 if it's meant to be the main meal)

3/4-1 butternut squash (depending on how large it is)
Sun-dried tomatoes pesto
1 stalk of celery (large)
1 small carrot (again, depending on how large it is)
1/4 large onion or 1/2 a small onion (white type)
1.5 cups of chicken stock (we used a Knorr cube dissolved in a litre of water)
1/4 cup cream
1/4 teaspoon curry powder (I didn't measure this actually and just sprinkled whatever I wanted)
Dried thyme/fresh thyme
Olive oil
Black pepper
Salt

1) Halve the butternut squash, scoop out the seeds and place cut side up on a baking tray.

2) Season with salt, pepper and thyme and drizzle with olive oil.

3) Bake squash in pre-heated oven at 108 degrees C (we just used the oven toaster!) and bake till it's soft and slightly brown.

4) Dice celery, carrots and onions and in a large pot, stir fry the vegetables till they sweat.

5) Scoop out the flesh of the squash and add into the pot. The squash should be soft enough to be mashed up easily. Mash up the squash while frying it with the rest of the veggies.

6) Add the chicken stock gradually, stir and bring to a boil. Don't add too much and you might not require all of the stock. It depends on how you would like the consistency to be. I like it thick and I used less than the recipe called for.

7) Add the curry powder and if required, more salt and pepper.

8) Puree the mixture till it's smooth and add the cream.

9) Serve with a dollop of tomato pesto.