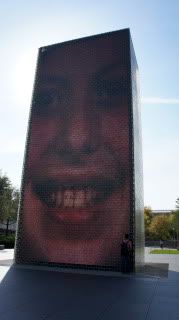 The Crown Fountain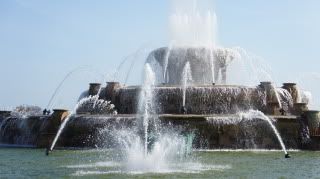 Buckingham Fountain



I have a fascination for water - rivers, lakes, fountains. They make lovely photographs and it's almost always challenging to take a good shot but if you manage to (which I haven't grappled the skill of aperture, shutter speed etc), you can get gorgeous jaw-dropping shots.

The Crown Fountain is one of the key attractions in the Millenium Park aside from The Bean. The design of it is almost fascinating and artistic and personally feel that it's best viewed at night. The two glass block towers face each other and when you stand at different spots and angles, you will see different images. It was quite difficult to snap a shot of it due to the strong sunlight so these are the best that I have.

The next fountain that we visited in Chicago was the Buckingham Fountain situated in the Grant Park (walking distance from The Crown, or at least, we walked!) Again, I believe it'll stand out more magnificantly at night and during the day, it looked like just a huge fountain. B.T was pressured into donating money to a begger who kept pestering and it wasn't a pleasant experience. I was half afraid that he was one of those gypsies in Italy that would snatch the wallet when he took it out. Thankfully, he walked off satisfied. I can't recall how much he gave but it wasn't worth it as I don't really have sympathy for beggers who are healthy, able-bodied adults who have the capability of finding decent jobs to earn a living instead of wasting time living off others.