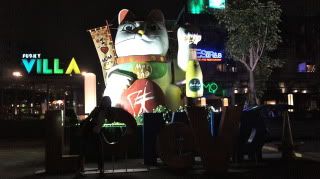 Lucky cat!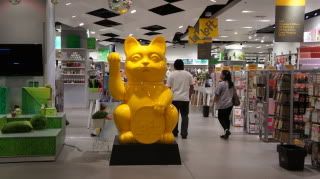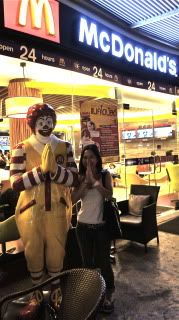 I love the Ronald McDonald's statue in Bangkok :P



If I had to choose between a dog as a pet or a cat, it'll be the former. I love both but dogs behave more like humans. There are certain breeds of cats that I find utterly adorable like the ragumuffin? ragdoll, Siamese and Persian cats.

There is one particular type of cat that I find undearing and that is the lucky cat. B.T got for me a minature one during his last trip to Tokyo and it's just about half the length of my pinky. I was quite amused to see a ginormous lucky cat in Bangkok and promptly tried to take a shot with it. But we were about to leave so it had to be done in a hurry and my flash wasn't fixed on so uh, you can't see me clearly but the cat is.

I like looking for icons in each country. Be it a bridge or structure or even like a Starbucks to see whether it's localized in any way. So far, one of my favorites is the Ronald Mcdonald's in Thailand. Too cute!

Do you have any favorite icons or so that you look out for when you travel?